Below is a step-by-step guide for purchasing a suppressor in the state of Pennsylvania through Freedom Armory. Once the paperwork has been filed, you can immediately use your suppressor on our range only – it must stay in our facility until approved.
Selection Process
Each suppressor on the market has its own specific purpose and best-use case. For example, some suppressors are designed specifically for pistols, while others are made for rifles. The first step in purchasing a suppressor is to understand your needs and select the type of suppressor that best suits your particular needs.
Trade-offs
Longer Length = higher degree of sound suppression at the expense of some mobility
Shorter Length = sacrifices some sound suppression but is more compact and mobile
Direct Mount = higher degree of sound suppression over most quick disconnect models but is limited to guns of the same barrel thread size.
Quick Disconnects = sacrifices some limited sound suppression but allows for usage on multiple firearms and multiple calibers in most cases.
Caliber Size
Suppressors used on their exact caliber size will be the most effective when it comes to sound suppression. Typically though, a smaller caliber bullet can be shot through a larger suppressor at the expense of some sound suppression. Combining the right caliber size with bullet weight will aid in obtaining the best suppression for your needs.
Selection Summary
If you are looking for maximum sound suppression for a single firearm you should purchase a long, direct-mount suppressor, that is specifically fit for the specific firearm caliber.
If you are looking for one suppressor that does it all you should consider a shorter, quick disconnect, larger caliber suppressor. This will allow you to utilize the suppressor on smaller caliber firearms and easily move the suppressor from one firearm to another.
Visit Freedom Armory to Learn More or Test Before Buying
Visit us at Freedom Armory located at 10598 2nd Amendment Dr, Glen Rock, PA 17327. Once here, you will be able to consult with our firearms experts who can guide you through the selection process. We also have suppressors on site which can be rented on our indoor range for testing prior to purchase.
Purchasing Process

Step 1: ATF E-Forms Account Creation
Each individual purchasing a suppressor must create an ATF E-Forms account. If you can do this before coming to the store to purchase your suppressor it will minimize the amount of processing time required on site. If not, no problem, we can help you through this step on-site.
Follow this link to set up your ATF E-Forms account: https://eforms.atf.gov/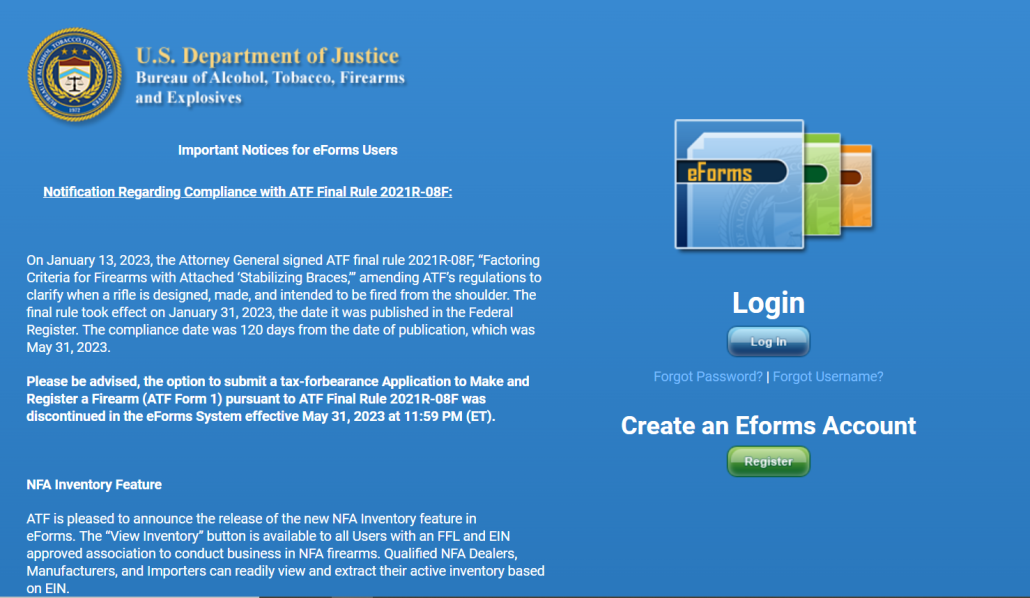 Click the green "Register" button and complete the prompted information to set up your profile. Make sure that you have easy access via smartphone or other means to the email address entered (it will come in handy later).
It is highly suggested that the remainder of the information such as name, middle initial, address, etc. matches the identical spelling and abbreviations shown on your driver's license even if you commonly use other spellings or initials in daily use.
When prompted, you will create a PIN number.
You will receive a separate email from the ATF shortly after you complete the initial registration information providing you with a User Name.
Be sure to save the User Name provided to you from the ATF email and your PIN number. Both items will be needed to complete your transaction later in the store. After you have obtained your User Name and PIN number you have completed step 1.

Step 2: Visit Freedom Armory
Come to the store and work with our knowledgeable staff to purchase the suppressor that meets your optimal usage and sound reduction needs. Make sure to bring a valid driver's license and/or passport along with your Username and Pin credentials for your ATF E-forms Account.

Step 3: ATF Form 4 Completion
A store associate will enter all the necessary information required to transfer the suppressor to you by linking the store E-Forms account to the personal E-Forms account you previously created utilizing Form 4. When entering the required personal information during your store visit, be sure to use all of the identical information such as name, address, spelling, abbreviations, etc. that is on your ID and was used when setting up your personal E-Forms account.

Step 4: Pay the Transfer Tax
The next step in the process is to pay a $200 transfer tax to the Bureau of Alcohol, Tobacco, Firearms, and Explosives (ATF). Credit card information will be entered directly into the E-Forms Form 4 during your store visit. This payment goes directly to the ATF, not Freedom Armory.

Step 5: User Name & Pin Confirmation
At the end of Form 4, you will be prompted to enter your personal E-Forms Username and PIN #. This is the User Name and PIN you obtained in Step 1 of the process. Both you and the store associate will enter credentials.

Step 6: Wait for Approval
You have now completed all of the required paperwork! Your application will be reviewed by the ATF and a response provided in 6-12 months on average.

Step 7: Collect Your Suppressor
Once the ATF approves your application, they will return your stamped Form 4 to Freedom Armory. We will notify you that it's time to pick it up! Remember to bring your government-issued ID and your copy of the stamped Form 4.
Although the above steps may seem like a lot, the process is rather simple after you create your E-Forms account. When all goes smoothly, the in-store visit to process your application should take about 20 minutes from start to finish. If you have any additional questions please stop in and see us.
Disclaimer: This guide is based on the most common process for purchasing a suppressor in the state of Pennsylvania. The process may vary slightly based on your specific location and circumstances. The intent of this article is purely educational and informational and it should not be interpreted as legal counsel. For queries concerning the law, it's advisable to seek guidance from a competent legal professional.
https://freedomarmory.com/wp-content/uploads/2023/09/Minuteman-Staged-Photo-Smith-Wesson-Brown-Gear-Bag-Clip-and-Ammo-scaled.jpg
1481
2560
kpeters
https://freedomarmory.com/wp-content/uploads/2023/06/7120_FreedomArmory_LogoUpdate_RGB_Website_2023-300x225.png
kpeters
2023-09-11 09:10:56
2023-09-25 08:02:54
A Comprehensive Guide to Purchasing a Suppressor